So, as I think I've mentioned, one thing we're doing for Solar Odyssey is to find a way of entering metadata at the time of shooting, and then use time of day to match metadata and media. Metadata logging doesn't require the accuracy that synchronizing cameras or double system audio does – for that you need Timecode.
June 14th's shoot day was the first day I started to use it, once I got a better understanding of how it works. So during the day I logged (knowing I'd made mistakes along the way) the day's shoot, using a web browser interface to the online web application that does the logging.
I then imported all the video media. A current limitation is that we need the time of day for the media and with the NEX 7 and FS100 it's the media file name. How convenient. For now the Zoom H1 files don't have that, but  I think we can eventually pull the date and time out of most formats' files directly.
Heres the ingested media: no logging.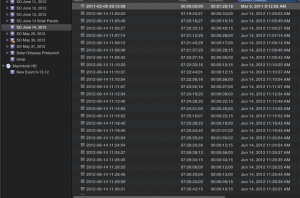 And (literally) three mouse clicks later (and potentially a menu selection), this is what I had:
Where the keywords logged is shorter than the media file, it's entered as a keyword range. Thinking of using some of the metadata in the clip names as well: what do you think?
The prefix is there to retain metadata: in our logging interface there are categories of metadata – location, people, etc – and we want to keep that. It also makes it easy to group those Keyword Collections into folders (since we can't do that in XML, at least not yet).
And it still leaves a lot of logging work for an editor or assistant – any speech logging from the clips, for example. But it's a good first step.
Not bad for a 0.1 product!