Apple released Final Cut Pro X 10.1 overnight. I've had the privilege of working with this version for a while now, and here's what I've found about the new features.
Final Cut Pro X 10.1 is a very significant update with major new features, smartly remodeled features and a new technical underpinning that will make it more performant and fit better into multi-seat facilities. As well as beefed up 4K support, making the best use possible of the dual GPUs in the new Mac Pro, additional language support, improved XML and a long list of other features, 10.1 gains some seriously useful media management and project organizational tools, plus improved editorial functions. 10.1 is for OS X 10.9 Mavericks only.
There are technology changes related to support for dual GPUs and (up to) 4K monitoring via Thunderbolt 2 and HDMI that I don't have the resources to test, nor the depth of knowledge I think I'd need to give a reasonable report. I expect both features to figure prominently in Apple's promotion of Final Cut Pro X 10.1. I'd expect 10.1 to perform extremely well on the new Mac Pro.
I was able to do one direct comparison of 4K performance between 10.0.9 and 10.1. Â For the Digital Cinema Society event early in December I used 4K RED RAW natively playing in the timeline scaled to fill the 16:9 raster (as it was a bit wider in native format). Playback off a Thunderbolt bus-powered LaCie rugged drive in both cases. Additional monitor mirroring the laptop in both cases.
In a very unscientific test it certainly seems that 4K RED RAW playback was consistently smoother under 10.1, but that is not a scientific test!
From the interface side, the inclusion of 4K titles, transitions, and generators is the only obvious impact of 4K within the interface.
 Libraries and Media Management
As many people predicted – due to the adoption of Libraries in Logic Pro X and iMovie '13 – Final Cut Pro X has adopted an all-in-one Library structure. Along with the new Library structure, media ingest can now be sent to any location – usually a central media store or SAN. (It doesn't have to be a SAN.) These two features combined create much more flexible workflows for facilities or those who prefer to keep media in a standard location, separate from Events and Projects (or now Libraries).
Libraries contain Events. Events can contain Clips or Compound Clips (as they do in earlier versions) but also an Event can now contain a Project. Projects are no longer separate from the Events they work with.
Libraries are a bundle: a special sort of folder that behaves as if it were one file. You can look inside a Library (Show package contents) and see the Event and Project folders, much as they were in earlier versions. You can double-click a Library to run Final Cut Pro X and open the Library. You can open one or more Libraries at any time. You can close a Library at any time, without quitting  Final Cut Pro X.
Libraries can be located on any mountable drive (not just a SAN Location, although SANs still play a big role). Libraries can contain the media (in their Event folders, within the Library bundle) or the media can be externally located – on a SAN for example. Combined with the next feature…
There is one other change in 10.1: you can Import (ingest) media to any location during the FCP X ingest. We are no longer limited to either managing our own media before importing to FCP X,  or ingesting direct to an Event. This change makes a big difference for facilities as I said.
In a multi-seat facility, any seat could open a Library, import or ingest new media into an Event in the Library, but have the media go to the common media location on a SAN or other mountable location. Because the media is not in the Library, the Libraries are small and can be passed around easily. Events can be moved between Libraries, whether they contain Clips, Compound Clips or Projects.
While keeping media external to  Events was certainly possible since the first release of Final Cut Pro X, there was no easy way to ingest from camera to any media location outside the Event. The workflow was clumsy: copy and convert media external to Final Cut Pro X, and then add it to an Event without copying media. With 10.1, media ingest can be to any mountable location, not just into the Event. (Be careful, it defaults to the Desktop!)
This isn't project sharing, but it is a step toward better collaborative workflows with Final Cut Pro X.
For the work that I'm editing, I prefer to keep the Libraries and their media self contained, which still works almost exactly as it did in earlier versions. Where you store media now becomes a lot more flexible for those who want that flexibility, without making life any more complex for those who prefer the self contained model.
Those who are paying attention will realize that Libraries make Event Manager X irrelevant, and it does. Except that Event Manager X is the best tool to use for your migration from Events and Projects to Libraries. Because we so strongly believe that Libraries are the way to go moving forward, Event Manager X is now free, so that there are minimum impediments to anyone upgrading to Libraries. See how to upgrade the better way. We were pleased to fill a need for the Final Cut Pro X community from very early on, and also very pleased that Apple have introduced a better solution integrated to Final Cut Pro X.
Although not a feature everyone will use, 10.1 improves support for "growing files". These files are usually generated from an incoming feed of a real-time live event, that needs to be cut down for highlights, while the event is still unfolding. Growing files allow the file to be progressively updated with new material, while starting to edit with the material already in the file.
Most importantly, Final Cut Pro X no longer grabs hold of all drives when they mount. With 10.1 drives not in use by an active Library can be ejected any time.
Not noted in the release notes but with the new Library structure, you can merge Events and then undo the merge, up until you close that Library or quit Final Cut Pro X. Final Cut Pro X 10.1 is also a whole lot smarter about merging Keyword collections when merging Events.
Backups and Snapshots
Automatic Library backups can be kept at the default location – in the User's Movies folder – or any mountable location  you specify. Backups happen at a minimum of about every 20 minutes (if something has changed) and there does not seem to be a way to change the frequency. Since you can set the backup to any location, you could have automated off-site backups by setting a Dropbox folder as the backups location.
Backups are metadata only. They do not contain media.
To restore from a Backup, select the Event to restore to in the Event Browser. Then from the File menu, select Open Library  > From Backup.
When selected, a dialog with the available backup times will appear so you can select which backup you want to restore from.
A Project Snapshot is a quick way to keep a duplicate copy of an edit, with a time stamp. Unlike the Library backup, this creates a duplicate of the Project you are currently working on.
Create a Project Snapshot from the Edit menu, or by pressing Shift + Command + D.
A Duplicate of the Project edit information (not the media) is small and lives in the Event with  the Project. You can open and use these like any Project.
Through Edit
The return of a feature I really enjoyed. 10.1 has a through edit indicator, although if your eyesight isn't 20/20 you may find the subtle dotted (instead of solid) line for the edit, a little hard to see. It's similar to the "cut" in a multiclip when changing angle.
Through edits are displayed on all clip types including Compound Clips and Multicam Clips.
To remove the through edit you can either:
Select either side of the edit, and press Delete on the keyboard.
Select both clips (either side of the through edit) and from the Trim menu select Join Clips.
Used Media
A perennial request for Final Cut Pro. In fact we even had a little app for showing used media in Final Cut Pro 7. In 10.1 any range of a Clip that has been used in the currently open Timeline will show an orange bar. Note that it only reports the usage in the currently open and visible Timeline.
So, if you take a single clip and Open in Timeline, and have Used Media active, the whole clip will show as being used, as indeed it is all used in that timeline. More useful is when Compound Clips or Projects are open, and the ranges used in that Project (or Compound Clip) are shown on the Clips.
Move, Copy and Paste Multiple Keyframes
A very long standing feature request from the earliest days of Final Cut Pro finally makes it. Like so many features in Final Cut Pro X, the implementation is outstanding. In 10.1 you can select keyframes (including multiple keyframes that are contiguous or non-contiguous), copy, cut and paste them as you would expect.
If that's all we got, I'd be more than happy to finally get such a great feature, but it goes even further. Keyframe values can be pasted to any compatible attribute. In the example below I copied position keyframes from a clip animation, into the 'Center' attribute of the Zoom filter! (The effect of which is just plain weird, but from such is born creativity!)
I can see this being very valuable for building effects. The limit is that you can only copy and paste keyframes with similar attributes. So Position keyframes will paste to any X,Y co-ordinate attribute, like Center or Anchor, for example.
Audio enhancements
We've had the very useful Audio fade handles on audio tracks from the first release, but this wasn't extended to audio components (channels) when they are revealed, until now. In 10.1 there are fade handles on every channel/component.
 Multicam Clips behave more like other Clips
Multicam clips now behave like other clips. I had been using Multicams in a recent edit without realizing the features were new! Thankfully I can now:
Detach audio from Multicam Clips in the timeline to manipulate audio and video separately.
Make video or audio-only edits into the timeline with Multicam Clips as sources
Blade and move audio in J- and L-cuts
Roll audio with J- and L-cut splits open
Retiming Changes
Add precise retime speeds by entering them numerically in the timeline.
You will note the checkbox next to Ripple. Uncheck and the speed change does not ripple the timeline: the clip stays the same duration in the timeline but plays as the new speed. This will change the amount of clip source that is shown in the timeline. For faster-than-100% speed  changes there needs to be enough source clip to cover the new duration.
A new option when you drag a clip onto a clip already in a Project, is Replace and Retime. Retains the Project duration and retimes the clip to fit, as you would expect. Similar to "Fit to fill" in other apps
Interface changes
As well as hiding the Libraries, 10.1 also allows the Browser (formerly the Event Browser) to also be hidden.
Note: To reveal the Libraries display, Events must first be actively displayed.
Hiding the Browser gives a lot more available screen real estate for cutting Multicam, or grading with scopes and color panel open.
Multicam clips now obey the normal conventions of Shift 1, 2 or 3 for editing both Audio and Video, Video only or Audio only angles. Each clip is still a multiclip so obeys all normal multicam   conventions.
If an iOS device is connected, you can import videos and stills directly into Final Cut Pro X, without needing to go through iPhoto first.
The selections between Proxy and Better Quality media, and playback quality controls have been moved from Preferences to the Viewer menu.
Improved Sharing
API for custom Share operations using third-party software, which will improve integration with Asset Management systems particularly.
Also good for integration with Asset Manager tools is the ability to interact with the share target application to customize the export operation. This feature uses Apple Events to communicate with Final Cut Pro X (in a limited fashion) that might, hopefully, point to more options in the future.
Share directly to YouTube at 4K resolution from a 4K projects. Not that you should.
Share directly to Chinese video sites Youku and Tudou should you be in a position to need them.
Effects parameters, fonts, and text size included in XML metadata so we can support them in 7toX and Xto7's new releases.
Improved Performance
The results of the dual GPU support show in FXplug 3 – also with dual GPU support (so that third party plug-ins written to support FXplug 3) – and improved performance with large projects and when modifying and adding Keywords to multiple clips at one. It certainly seemed to support 4K RED RAW better in my limited testing.
There is also improved image stabilization with InertiaCam and Tripod mode added which I didn't test.
FXPlug 3 also supports custom interfaces for plug-ins, something that I suspect will be put to good use by effect developers.
Other Improvements
Final Cut Pro X now supports Custom Project frame sizes. This also means that custom sized compound clips and synchronized clips are now available, which is great news for some of our Sync-N-Link X customers working with RED proxy files.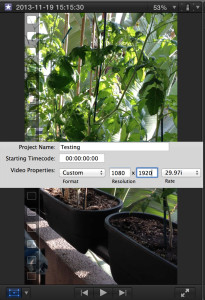 Native support for .MTS and .MT2S files from AVCHD cameras where the folder structure from the card is missing. No longer do you need Clipwrap to work around this problem. Final Cut Pro X will continue to rewrap all MTS or MT2S files as QuickTime movies if the full card structure is present. I presume this rewrap to QuickTime gives better retention of metadata present in the associated files lost when the card structure is lost. Direct import of the MTS file does not bring in as much metadata.
An option for linear animation with Ken Burns effect
Also nice to have: Support for portrait/landscape metadata in still images and Spanish language localization: especially if that's your language.
Last but not least, we've reported a small list of bugs since 10.0 some of which remained up to 10.0.9. With 10.1 they've all been fixed, suggesting there's been attention paid to both bugs and features.
We participated in the recent FCP.co survey and based on the feature requests submitted there, a lot of people are going to be very happy with this release. The new Library Structure that includes Events and Projects in the same wrapper will be much more familiar to all NLE users, as well as being a big step forward.
And remember Event Manager X is the best tool to use for your migration from Events and Projects to Libraries and it's now free.