For me it's day -6 as I head off to Orlando to do two days of Hoverfly remote control helicopter training – and in turn train others to fly it on the boat. (As much as I think I'll love it, I'll have a few other duties to do).
So, for me it's got very real, very quickly. The last two weeks have been packed with gear. Boxes arriving from everywhere as I build out the kit. Then more boxes arrived. And more. And more. We have an over packaging problem! Everything from cameras, to audio gear, to power – all the things I talked about in the previous series of "Haiku" posts.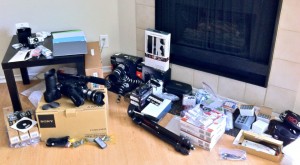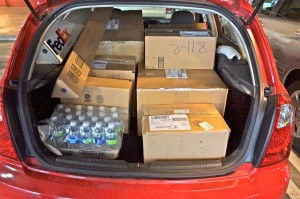 All this condensed down to 10 boxes ready to ship to Florida.
So far, I'm impressed with the NEX7 as both a video and still camera. The light sensitivity of the FS100 is absolutely amazing, and the audio synching works well in FCP X , but we may be looking at Pluraleyes for batch processing.
Net result is that everything I need to do a multi camera reality TV show doesn't take up multiple grip trucks – it fits in the back of a Kia Spectra 5! And on a 47.5′ by 6′ boat.